Schtick A Pole In It: Usher Edition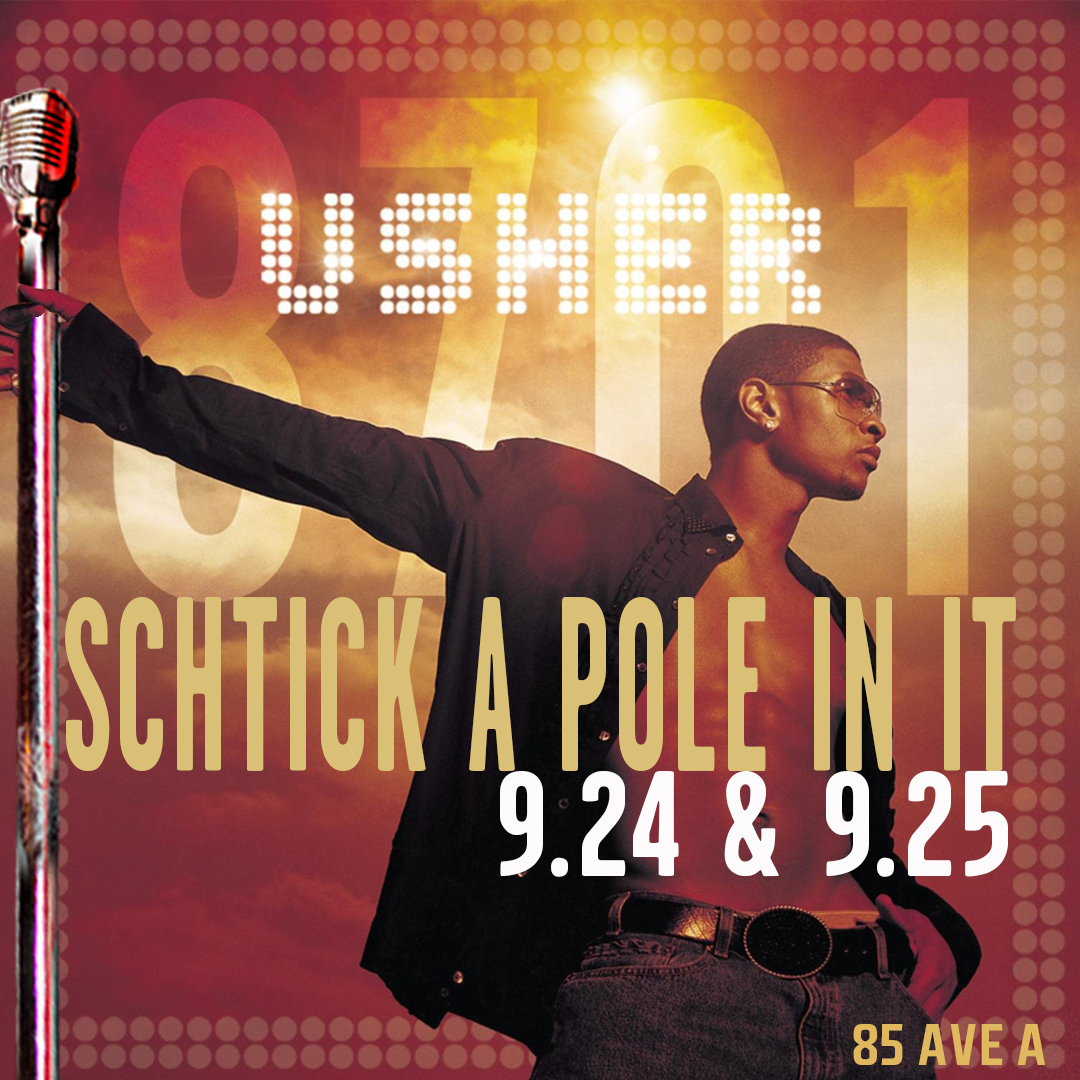 As featured in the NY Times, AM NY, and TimeOut NY, for the past 8 years we've been NYC's best, and only, Comedy and Pole Dancing show.
Schtick starts with a comic and ends with a pole dancer. 5 comics and 5 dancers. Comics tell jokes. Pole dancers pole dance. They're not strippers, it's not burlesque. It's aerial dance with a side of crazy gymnastics and death defying tricks that make your jaw drop. It's also the only thing like it around. 
Every month we have a musical theme and this month it's Usher. "Don't Waste My Time" with your "Confessions'". "I Don't Mind " if you're a "Lil Freak". If you don't see shows like this why did you stay in NYC through a pandemic???
DETAILS
Schtick A Pole In It: Usher Edition
Fri & Sat 9/24, 9/25 8pm
$35/VIP $45
Drom 85 ave A  
Doors @730. Show starts promptly @ 8pm.
Fri Tix: https://tinyurl.com/yv46apd7
Sat Tix: https://tinyurl.com/5b4bdevk
Subways
2nd ave stop on the F. Walkable from the 6 (Astor Place) and R (8th St - NYU) train stations.  
Cast List
Comics(Friday)
Dan Goodman @getdangoodman
JoAnna Ross @joanna33ross
Carmen Lagala @carmstagrams
Special Guests TBA
Dancers(Friday)Zoe Buess-Watson @aqvadiva
Yana E @yasminarussia
Victoria Finehout-Vigil @victoriafinehoutvigil
Brittnai Pytlar @brittnaipole
Marcy Richardson @operagaga
Comics(Saturday)
Dan Goodman @getdangoodman
JoAnna Ross @joanna33ross
Sergio Chicon @SergioChiconErik Bergstrom @erikbergstrom Special Guests TBA 
Dancers(Saturday)
Crissy Levine @spiraling.mermaid
Jasmine Nelson @fancyfree3
Danielle Marie @danimariedance
Teeny @teeny.aerial.dancer
Nita B Yellowcakes @nitachicklikeme_inheels
Lineup subject to change
Saturday, 25 September, 2021
Other Dates For This Event:
Contact:
Dan Goodman
Phone: 2127771157
Website:
Click to Visit
Cost:
35-45
Save this Event:
iCalendar
Google Calendar
Yahoo! Calendar
Windows Live Calendar
Share this Event:
Email to a Friend
More...
Categories:
Comments powered by Disqus