Schtick A Pole In It: Disco Edition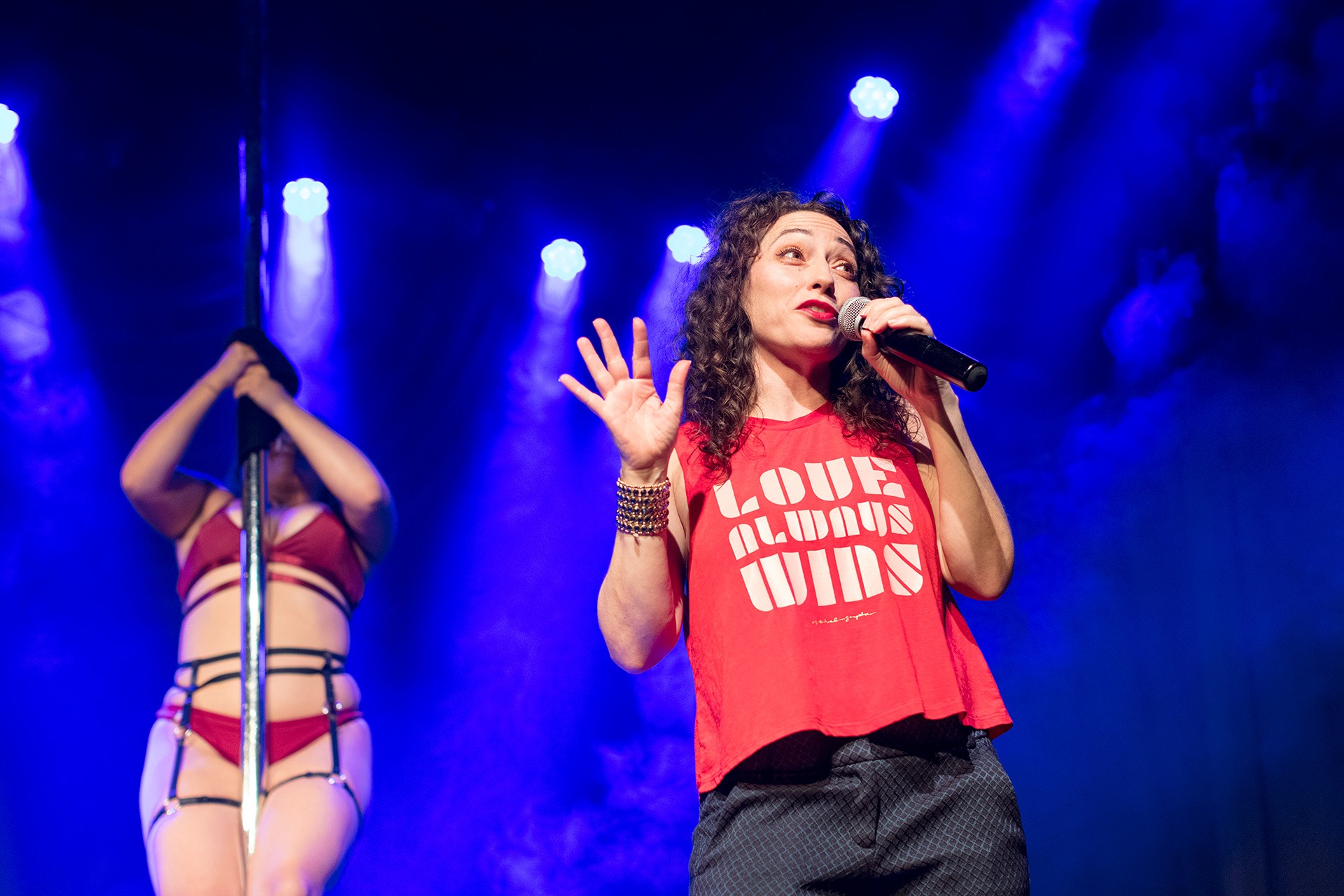 As featured in the NY Times, AM NY, and TimeOut NY, for the past 8 years we've been NYC's best, and only, Comedy and Pole Dancing show. After taking Our Show Online for the Quarantine, we are now back and in person with limited seating!

Not sure how the show works? Schtick starts with a comic and ends with a pole dancer. 5 comics and 5 dancers. Comics tell jokes. Pole dancers pole dance. They're not strippers, it's not burlesque. It's aerial dance with a side of crazy gymnastics and death defying tricks that make your jaw drop. It's also the only thing like it around.
Every month we have a musical theme and this month it's Disco! All aboard the "Love Train" because we're going to "Funky town". If you don't see shows like this why did you stay in NYC through a pandemic???
Vaccine card (proof) required at door.
DETAILS
Schtick A Pole In It: Disco Edition
Fri & Sat 10/22, 10/23 8pm
$35/VIP $45
Drom 85 ave A
Doors @730. Show starts promptly @ 8pm.
Fri and Sat Tix: https://tinyurl.com/26d8ef7h
Subways
2nd ave stop on the F. Walkable from the 6 (Astor Place)
and R (8th St - NYU) train stations.
Friday's Cast
Comics
Dan Goodman @getdangoodman
JoAnna Ross @joanna33ross
Casey Balsham @casefaceb
Alex Carabano @alexcarabano
Gabe Dorado @cubanisfunny
Dancers
Zoë Kantor @zoeinthesky
Sara Joel @nycsarajoel
Aggie Ng @snaglikeanag
Katie Torres @katie_t_res
Andrea Rosales @andrea_dotcom
Saturday's Cast
Comics
Dan Goodman @getdangoodman
JoAnna Ross @joanna33ross
Greg stone @gregfstone
Kenny Warren @_theaboveaverageblackman
Dancers
Accro Brandon @accrobrandon
Donna Carnow @donkakong
Jeni Janover @jenijanoisliquid
Jennifer Margulis @croptop
Estefania Jiménez @estefjimpa
Lineup subject to change
Friday, 22 October, 2021
Other Dates For This Event:
Contact:
Dan Goodman
Phone: 2159648958
Website:
Click to Visit
Save this Event:
iCalendar
Google Calendar
Yahoo! Calendar
Windows Live Calendar
Share this Event:
Email to a Friend
More...
Categories:
Comments powered by Disqus