Schtick A Pole In It: Doja Edition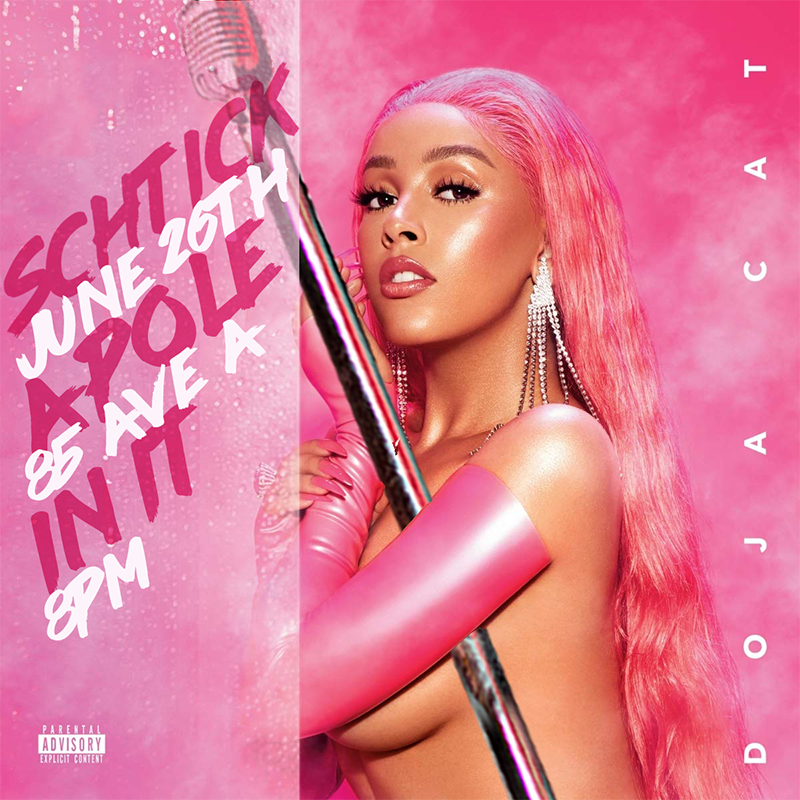 As featured in the NY Times, AM NY, and Gothamist, for the past 8 years we've been NYC's best, and only, Comedy and Pole Dancing show. If you don't know what our show is about, Schtick starts with a comic and ends with a pole dancer. 5 comics and 5 dancers. Comics tell jokes. Pole dancers pole dance. They're not strippers, it's not burlesque. It's aerial dance with a side of crazy gymnastics and death defying tricks that make your jaw drop.
First show back and excited doesn't cover it! How do you come back from a pandemic? Doja Cat. All the dancers will be on the pole to Doja Cat. Bring your "Best Friend" because this is going to be "Juicy". We "Won't Bite" but will "Shine" bright. If you don't see shows like this why did you even stay in NYC this past year!
DETAILS
Schtick A Pole In It: Doja Cat Edition
6/26 8pm
$35/VIP- $45 (80 Total Seats)Drom 85 ave A  
Doors @730. Show starts promptly @ 8pm.
Tix https://www.eventbrite.com/e/schtick-a-pole-in-it-doja-cat-tickets-157290358697
Subways
2nd ave stop on the F.
Walkable from the 6 (Astor Place) and R (8th St - NYU) train stations.  
Cast List
Comics
Dan Goodman(@getdangoodman)
Joanna Ross(@schtickit)
Special Guests TBA
Dancers
Brittnai Pytlar(@brittnaipole)
Daniel Darling(@darling.daniel)
Astrid Zuniga(@lady_a.z._poles)
Sofa Gavshina(@sofaindenstadten)
Kenny Dearie(@kennydearie)
Saturday, 26 June, 2021
Contact:
Dan Goodman
Phone: 2127771157
Website:
Click to Visit
Cost:
35-45
Save this Event:
iCalendar
Google Calendar
Yahoo! Calendar
Windows Live Calendar
Share this Event:
Email to a Friend
More...
Categories:
Comments powered by Disqus